At the core of 4D Life is a series of 48 videos, delivered over the first 12 weeks of your membership. Below are the first 4 videos from the programme, introducing each of the dimensions covering important aspects of living well with Parkinson's. Please click the picture to play the video.
Movement Week 1 – Introduction

Nutrition Week 1 – Introduction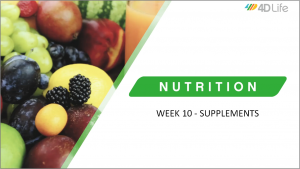 Function Week 1 – Introduction

LifestyleWeek 1 – Introduction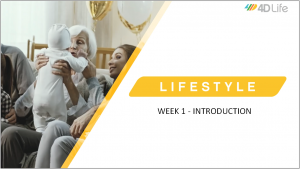 Please see below for an outline of the topics covered in each of the 48 videos, and the additional support material that's included.
Week
1
Introduction
Introduction
Introduction
Introduction
2
Morning Mobilisation 1
Water
Breathing
Inactivity
3
Resistance Training 1
Whole Foods vs Processed
Neuroscience
Sleep
4
Cardio Training 1
Wheat & Dairy
Posture 1
Toxins & Environment
5
Walking
Breakfast
Core 1
Stress
6
Flexibility & Stretching 1
Lunch
Digestion
Planning & Preparation
7
Progression
Evening Meal
Balance 1
Walking
8
Morning Mobilisation 2
Fats
Dual Tasking
Drugs
9
Resistance Training 2
Chrononutrition
Skill Acquisition
Sitting
10
Cardio Training 2
Supplements
Gait Cycle
Correcting Repetition
11
Flexibility & Stretching 2
Gain/Lose Weight
Posture/Core/
Balance 2
Massage
12
Going Forwards
Summary & Research
Therapies
Purpose & the Future
Week 1
Movement
Introduction
Nutrition
Introduction
Function
Introduction
Lifestyle
Introduction
In addition to the 48 videos the programme includes:
Guidance Notes accompanying each video, in PDF format, summarising the main points and acting as a support and reminder for each topic. These can be downloaded and printed.  For reference, you can download The Programme Topics here.
Phone and Email Support to get you set up and to answer questions.
A comprehensive Text Message programme to motivate and reinforce the messages.
An Exercise Library containing exercise routines, workouts and demonstrations covered in the programme, including:
A Recipe Library, containing a range of dishes following the 4D Life nutrition guidelines, covering breakfast, lunch, evening meals and desserts. These can be downloaded and printed out.
A Research Library, linking to relevant research and evidence behind the 4D Life programme, as well as new research as it emerges.
An Added Value section, containing firther interesting and useful material relevant to Parkinson's.
Movement & Nutrition planners. These can also be downloaded and printed out as required.
We will help you develop skills and programmes that will last a lifetime.
On joining the programme, you will have instant access to the 4 Introductory videos, and for the following 11 weeks, each Monday you will receive 4 more videos, one from each Dimension. You can revisit the 48 programme videos as many times as you like.
For just £12.75 every 4 weeks you can learn how to self-manage your Parkinson's, alongside the support of your medical team, for life.